---
Description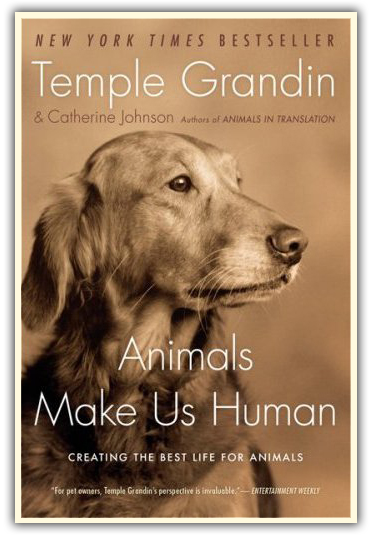 Animals Make Us Human:
Creating the Best Life for Animals

Dr. Temple Grandin and Catherine Johnson

Animals Make Us HumanHow can we give animals the best life--for them? What does an animal need to be happy?

In her groundbreaking, best-selling book Animals in Translation, Temple Grandin drew on her own experience with autism as well as her experience as an animal scientist to deliver extraordinary insights into how animals think, act, and feel. Now she builds on those insights to show us how to give our animals the best and happiest life--on their terms, not ours.

Knowing what causes animals physical pain is usually easy, but pinpointing emotional distress is much harder. Drawing on the latest research and her own work, Grandin identifies the core emotional needs of animals and then explains how to fulfill the specific needs of dogs and cats, horses, farm animals, zoo animals, and even wildlife. Whether it's how to make the healthiest environment for the dog you must leave alone most of the day, how to keep pigs from being bored, or how to know if the lion pacing in the zoo is miserable or just exercising, Grandin teaches us to challenge our assumptions about animal contentment and honor our bond with our fellow creatures.
Animals Make Us Human is the culmination of almost thirty years of research, experimentation, and experience. This is essential reading for anyone who's ever owned, cared for, or simply cared about an animal.




Mary Temple Grandin (born August 29, 1947) is an American doctor of animal science, a professor at Colorado State University, a best-selling author, an autistic activist, and a consultant to the livestock industry on animal behavior. She also created the "hug box", a device to calm those on the autism spectrum. The subject of an award-winning, 2010 biographical film, Temple Grandin, she also was listed in the Time 100 list of the one hundred most influential people in the world in the "Heroes" category.

Grandin was born in Boston, Massachusetts, to Eustacia Cutler and Richard Grandin. She was diagnosed with autism at the age of two in 1949. Diagnosed and labeled with brain damage, at that early age she was placed in a structured nursery school with what she considers to have been good teachers. After Grandin's mother spoke to a doctor who suggested speech therapy, she hired a nanny who spent hours playing turn-taking games with Grandin and her sister.[3]

Grandin suffered from delayed speech development, as she began talking at the age of four (developmental guidelines anticipate a vocabulary of eight to ten words by eighteen months of age.[4]) She considers herself lucky to have had supportive mentors from primary school onward. Grandin has said, however, that middle and high school were the most unpleasant times of her life due to her poor conversational skills. She was the "nerdy kid" whom everyone ridiculed. At times, while she walked down the hallways, her fellow students would taunt her by saying "tape recorder" because she would repeat herself constantly. Grandin states, "I could laugh about it now, but back then it really hurt."[5]

After graduation from Hampshire Country School, a boarding school for gifted children in Rindge, New Hampshire in 1966, Grandin went on to earn her bachelor's degree in psychology from Franklin Pierce College in 1970, a master's degree in animal science from Arizona State University in 1975, and a doctoral degree in animal science from the University of Illinois at Urbana-Champaign, in 1989.


Related Torrents
| torrent name | size | seed | leech |
| --- | --- | --- | --- |
| | 261.16 KB | 3 | 2 |
Sharing Widget