seeders: 137
leechers: 138
--- Release date: May 15, 2012
Language: English
Description
Game of Thrones: A Telltale Games Series Includes Episodes 1-5

Game of Thrones: A Telltale Games Series - Episode 1: Iron from Ice
Game of Thrones: A Telltale Games Series - Episode 2: The Lost Lords
Game of Thrones: A Telltale Games Series - Episode 3: The Sword in the Darkness
Game of Thrones: A Telltale Games Series - Episode 4: Sons of Winter
Game of Thrones: A Telltale Games Series - Episode 5: A Nest of Vipers

Release Date: December 2, 2014 ~ July 21, 2015
Genres/Tags: Adventure, 3D, Fantasy
Developer: Telltale Games
Publisher: Telltale Games
Platform: PC [Repack]
Engine: in-house
Steam User Rating: 87% of user reviews are positive (based on 3,222 reviews)

Interface Language: English
Audio Language: English
Crack: built-in (CODEX)

Minimum requirements:
Operating System: Windows XP Service Pack 3
Processor: Core 2 Duo 2GHz or equivalent
RAM: 3 GB
Video Card: ATI or NVIDIA card w/512 MB RAM
DirectX: 9.0c
HDD Space: 20 GB


Screenshots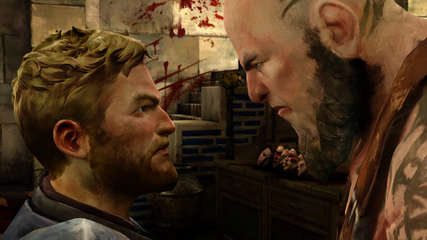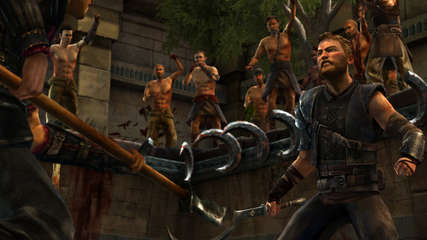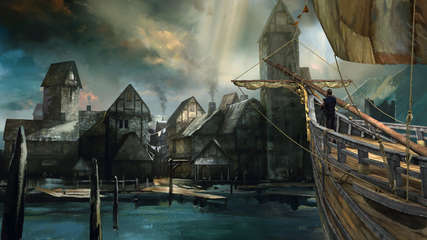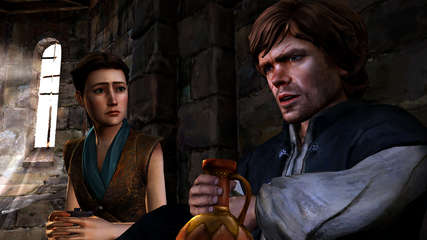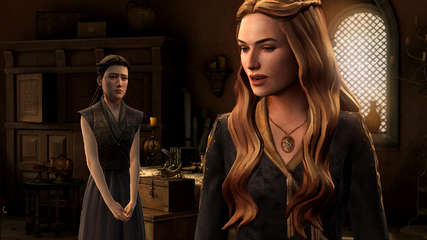 Description:
Game of Thrones - A Telltale Games Series is a six part episodic game series set in the world of HBO's groundbreaking TV show.
This new story tells of House Forrester, a noble family from the north of Westeros, loyal to the Starks of Winterfell. Caught up in the events surrounding the War of the Five Kings, they are thrown into a maelstrom of bloody warfare, revenge, intrigue, and horror as they fight to survive while the seven kingdoms tear themselves apart. You will take on the role of different members of the Forrester household, and determine their fate through the choices you make; your actions and decisions will change the story around you.
Developed by the creators of the award-winning The Walking Dead – A Telltale Games Series, and The Wolf Among Us

Meet and interact with characters from HBO's hit TV show

Visit King's Landing, The Wall and other familiar locations

Feel what it is like to play the Game of Thrones, where you win…or you die

Repack Features
Based on Game.of.Thrones.Episode.5-CODEX ISO release: codex-game.of.thrones.episode.5.iso (10,637,082,624 bytes)

Unlike most of my repacks, this one is NOT MD5 Perfect: most resources were decrypted & unpacked for better recompression, thus are not bit-to-bit identical to originals. But since this episodic game is not updated by patches, it's not a problem. The game works just fine with resources decrypted/uncompressed, on some HDD with heavy load thay may be some lagging though. You've been warned.

Episodes 1-5 included

NOTHING ripped, game resources were decrypted & unpacked

Significantly smaller archive size (compressed from 9.9 to 4.4 GB)

Installation takes 10-15 minutes

HDD space after installation: 20 GB

After-install integrity check so you could make sure that everything installed properly

Repack by FitGirl

Problems during installation?
If you experience errors (Xdelta or Unarc ones) during installation, try the following things:
Re-hash torrent (in Utorrent point to the game entry, stop download/upload, then click right mouse button, then click "Force Re-check")

Disable antivirus, it can delete installation files or cracks on-the-fly

Make sure you have at least as two times more virtual memory, than actual, physical RAM

Make sure you have enough space on target drive & on C: drive (or whatever system drive you have)

Try install the game NOT to C: (system) drive OR specifically to C: drive (Windows rights system is a tricky thing)

Run setup with proper rights, as shown on this image:

Sharing Widget
Trailer
Screenshots
All Comments