--- Release date: January 23, 2015
Language: English, German
Description
Grey Goo
patched to Update 6 + Emergence Campaign

Release Date: January 23, 2015; U6 + EC - June 11, 2015
Genres/Tags: Strategy (RTS), Isometric, 3D, Space science fiction
Developer: Petroglyph Games
Publisher: Grey Box
Platform: PC [Repack]
Engine: in-house
Steam User Rating: 74% of user reviews are positive (based on 1,101 reviews)

Interface Language: English, German, Spanish, Italian, French, Russian, Polish, Portuguese-Brazil
Audio Language: English, German
Crack: built-in (CODEX)

Minimum requirements:
Operating System: 32-bit Windows 7
Processor: 3.5 GHz Intel Core i3 Dual Core or competitor
RAM: 4 GB
Video Card: GeForce GTX 460 or AMD Radeon HD 5870
DirectX: 11
HDD Space: 14 GB (~16 GB during installing)


Screenshots - click to enlarge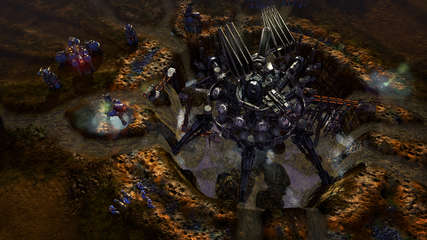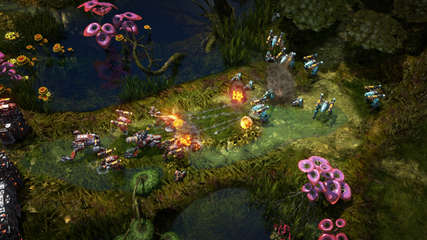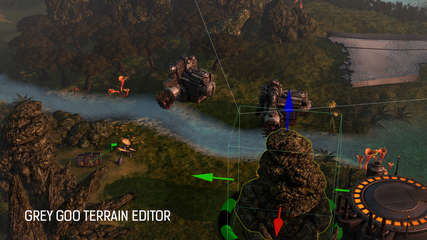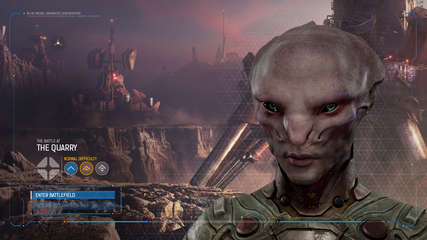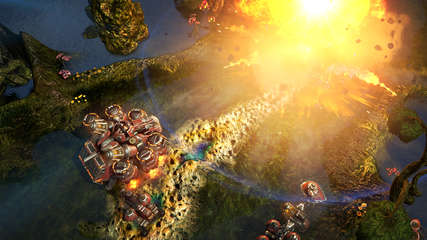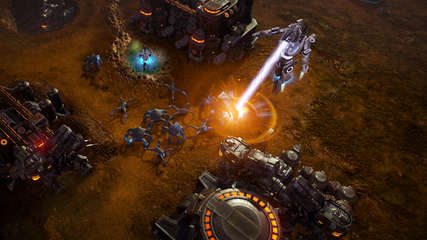 Description:
Centuries after Humanity first left Earth, all forms of life in the Milky Way have evolved toward an inward tranquility. But there has been a mutation. A mysterious organism barrels toward the surface of a lone, resource-rich planet known as Ecosystem 9, on a mission to consume all it encounters.
Grey Goo is a real-time strategy (RTS) game that combines classic strategy mechanics and a balanced combat system with an emphasis on large-scale decision-making. It puts you at the center of a tactical struggle for survival—and ultimately, control of Ecosystem 9.
Command one of three unique factions: the Humans, masters of defensive architecture; the Beta, a proud, versatile alien race; or the Goo, an enigmatic, highly mobile life form. Fight from behind massive walls, attack from strategic outposts, or swallow your enemies whole. Just remember, the choices you make on the battlefield will mean the difference between glorious victory and agonizing defeat.
Emergence Campaign description:
This 3 mission, Grey Goo mini-campaign follows the events of Singleton immediately following the explosion at the Terminal, and reveals the true motivations behind the overwhelming Goo force.
An ally turned enemy, Singleton's journey remains a mystery to his former companions. But what happened to cause his corruption and turn? And what drives the Goo itself? Delve into the Goo's origins and learn its true intention and plan for the galaxy.
Experience three unique campaign missions, which explore the fate of Singleton after the Terminal.

Play as Singleton, our first hero-tier unit (campaign mission only).

Enjoy six new, amazing cinematics by award winning Axis Animation Studio.

Repack Features
Based on CODEX ISO release: codex-grey.goo.repack.iso (11,456,118,784 bytes)

The following updates were installed on this release one after another: Grey.Goo.Update.1-CODEX (180 MB), Grey.Goo.Update.2-CODEX (191 MB), Grey.Goo.Update.3-CODEX (309 MB) & Grey.Goo.Update.4.to.6.incl.DLC-CODEX (7.4 GB)

NOTHING ripped, NOTHING re-encoded. Soundtrack by Frank Klepacki is included :)

MD5 Perfect: all files are identical to originals after installation

Game version: 0.14.548548 [Update 6]

Significantly smaller archive size (compressed from cumulative 18.8 to 8.4 GB)

Installation takes 30-40 minutes (depending on your system)

After-install integrity check so you could make sure that everything installed properly

HDD space after installation: 14 GB

Repack by FitGirl

Problems during installation?
If you experience errors (Xdelta or Unarc ones) during installation, try the following things:
Re-hash torrent (in Utorrent point to the game entry, stop download/upload, then click right mouse button, then click "Force Re-check")

Disable antivirus, it can delete installation files or cracks on-the-fly

Make sure you have at least as two times more virtual memory, than actual, physical RAM

Make sure you have enough space on target drive & on C: drive (or whatever system drive you have)

Try install the game NOT to C: (system) drive OR specifically to C: drive (Windows rights system is a tricky thing)

Run setup with proper rights, as shown on this image:

Related Torrents
Sharing Widget
Trailer
Screenshots
All Comments