--- Release date: October 30, 1998
Language: English
Grim Fandango Remastered (MULTI7, v1.2.2) [FitGirl Repack] (Size: 3.53 GB)
| | | | |
| --- | --- | --- | --- |
| | | FitGirl releases on Kickass Torrents.url | 128 bytes |
| | | setup-fitgirl-1.bin | 42.63 MB |
| | | setup-fitgirl-2.bin | 397.8 MB |
| | | setup-fitgirl-3.bin | 252.57 MB |
| | | setup-fitgirl-4.bin | 1.49 GB |
| | | setup-fitgirl-5.bin | 1.18 GB |
| | | setup-fitgirl-6.bin | 177.17 MB |
| | | setup-fitgirl-7.bin | 408.23 KB |
| | | setup-fitgirl-8.bin | 1.4 MB |
| | | setup-patched-to-v1.2.2.exe | 5.58 MB |
Description
This is an updated version of my previous torrent & this one includes patch v1.2.2, released on Feb 2, 2015. Just download the new torrent, it contains new files: setup-fitgirl-8.bin & setup-patched-to-v1.2.2.exe. Then launch setup-patched-to-v1.2.2.exe and install updated version (you can overwrite the old game folder, save games won't be deleted).
Grim Fandango Remastered

Release Date: January 26, 2015
Genres/Tags: Adventure (Point-and-Click)
Developer: LucasArts Entertainment, Double Fine Productions
Publisher: LucasArts Entertainment, Double Fine Productions
Developer Website:
Platform: PC [Repack]

Interface Language: English, German, Spanish, Italian, French, Portuguese-Brazilian, Russian (unofficial)
Audio Language: English
Crack: built-in (CODEX)

Minimum requirements:
Operating System: Windows Vista or later
Processor: Intel Core 2 Duo 2.4 GHz, AMD Athlon X2 2.8 GHz or better
RAM: 4 GB
Video Card: ATI Radeon HD 4650 / NVIDIA GeForce GT 220 / Intel HD 4000 Graphics or equivalent
OpenGL: 3.3
HDD Space: 6 GB


Screenshots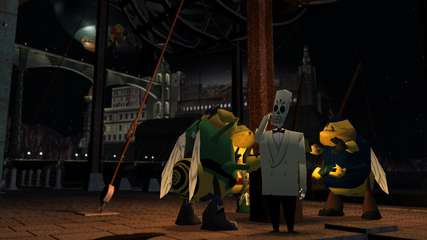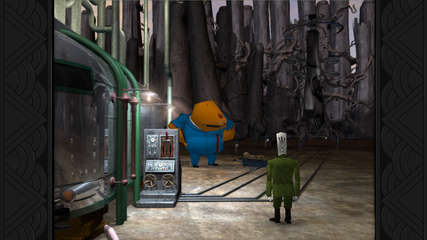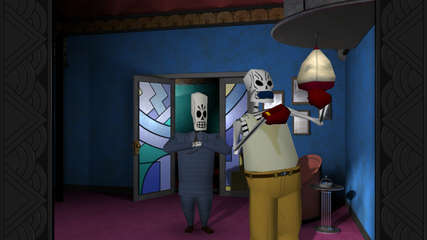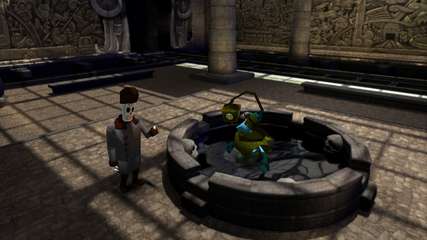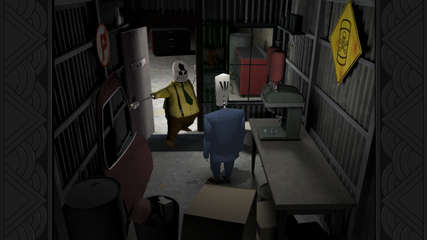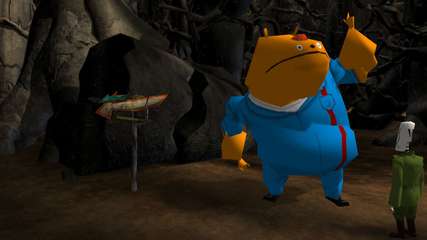 Description:
Something's rotten in the land of the dead, and you're being played for a sucker. Meet Manny Calavera, travel agent at the Department of Death. He sells luxury packages to souls on their four-year journey to eternal rest. But there's trouble in paradise. Help Manny untangle himself from a conspiracy that threatens his very salvation.
One of the most acclaimed adventure games of all time is now back, better than ever. Grim Fandango's epic story of four years in the life (or death) of Manny Calavera, travel agent to the dead, has been remastered to look, sound, and control even better than when it won GameSpot's Game of the Year award upon its original launch. Grim Fandango still stands as a classic of the genre, with unforgettable characters and unique combination of film noir and Mexican folklore.
Remastered version includes
Repainted, hi-res character textures

New, dynamic lighting

Classic score re-recorded with a full live orchestra

Over 2 hours of exclusive developer commentary

Concept art browser

Repack Features
MD5 Perfect: all files are identical to originals after installation

NOTHING ripped, NOTHING re-encoded

Updated to v1.2.2

You can select the game language in installation or later in game menu

For Russian gamers I've included unofficial localization made by ENPY.net team

Significantly smaller archive size (compressed from 5.4 to 3.5 GB)

Installation takes 7-10 minutes (depending on your system)

HDD space after installation: 6 GB

Repack by FitGirl

Update v1.2.2:
This update fixes the following issues:
- Smush movies skip first frame which causes them to loop incorrectly.
- Missing hotspots in ri.set.
- Can get locked in the inventory in the Beaver Dam area during the extinguisher puzzle.
- Fix save/load crash related to malformed text events.
- Fix crash when transitioning between SU and PS after grabbing Chepito.
- Attempted fix for font crash when transitioning between year 1 and year 2.
- Fix game not installing properly on hard drives over 2 TB in Linux OS.
- More graphics logging enabled to try to help track down graphics issues.
- Backgrounds appear black on the Intel HD 4000 for some users.
- Added support for "-log" on OSX and Linux.
- Manny can get stuck in the packing room.
- Bread can become invisible in your inventory after you use it on the roof.
- Buffers reworked to reduce video memory requirements
- Fix for FMV stuttering on some machines.
- Fix ability to clip through the wheelbarrow in tank controls.
- Fix rare pathing soft lock when walking to the bone wagon in SG.
- Added deadzone to PC controller handling.
- "Light smoothing" shader re-enabled.
- Fix strings that are too long for brightness slider.
Sharing Widget
Trailer
Screenshots