---
Hitman Pro 3.7.9 Build 238 (x32 & x64) + Patch--Xeno (menin) (Size: 20.19 MB)
| | | | |
| --- | --- | --- | --- |
| | | HitmanPro_x64.exe | 10.49 MB |
| | | HitmanPro.exe | 9.62 MB |
| | | info.txt | 3.69 KB |
| | | Torrent downloaded from extratorrent.com.txt | 339 bytes |
| | | Torrent downloaded from AhaShare.com.txt | 59 bytes |
| | | Torrent Downloaded From 1337x.to.txt | 33 bytes |
| | | hitmanpro.3.7.x-patch.exe | 80 KB |
Description
Hitman Pro 3.7.9 Build 238
Hitman Pro is the fastest solution to see if your computer is infected with viruses. This software is also portable and can run from a USB Flash Drive, CD/DVD, local or network attached hard drive. Hitman Pro 3 is a fast all-in-one tool to locate, identify and remove viruses, spyware, trojans, rootkits and other malware. Hitman Pro 3 will quickly show if your PC is infected with malicious software.
Research shows that many computers are infected, even if they have an up-to-date security suite installed, and that a combination of different anti malware programs would be required to prevent infection. Hitman Pro 3 uses innovative cloud computing techniques to detect and remove potential malware threats with minimal impact on system performance.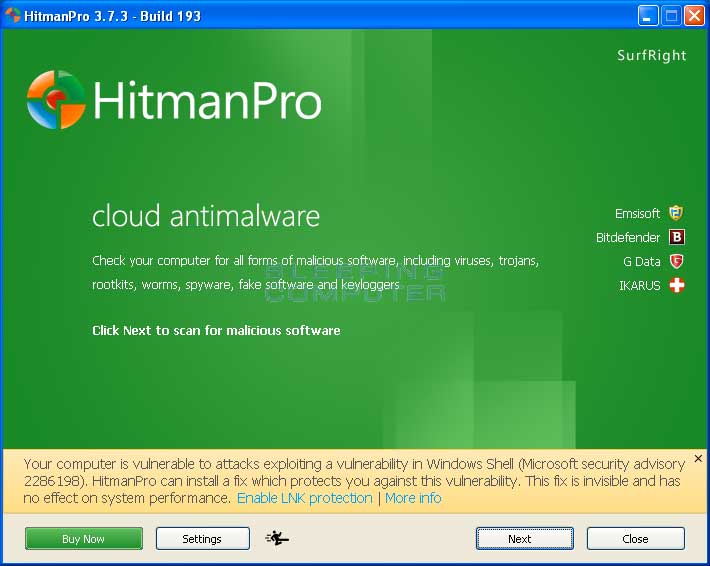 Features of Hitman Pro 3x.: - Recognizes and removes viruses, trojans, rootkits, spyware and other malware.
- Revolutionary innovation in scanning technique to distinguish between malicious and safe software without signatures.
- Short scan time - searches the system within a few minutes.
- No extra system load.
- Impossible to make false positives on important systems files thanks to "profiling" and whitelisting.
- Multi-vendor identification of malware in our real-time "Scan Cloud".
- Automatically restores common system alterations made by malicious software.
- Creates a check point in System Restore before removing malicious software.
- Removes resistant threats using native NT boot-time deleter.
- Removes references to malicious software (like shortcuts and registry entries).
- Free malware scan.
- Free online support in English, German and Dutch. Keeping malware off your system and removing rogue, fake or misleading software, dangerous keyloggers and other such threats is not an easy task. Luckily, there are many specialized tools with this goal, such as HitmanPro. It is a powerful application that can detect and remove most viruses that could come in contact with your computer.



Cloud-assisted virus remover

Right off the bat you can notice a great thing about this utility, namely the fact that it uses a cloud engine when scanning, therefore several antimalware engines are at work to help you find and obliterate any trace of malicious code.



Find and remove threats easily[/b

]

Another neat feature of Hitman Pro is the ability to run without installation when needed, so it can be used from a portable storage device. In case you wish to keep it on your system, though, select the option to create a copy of the utility, so you can regularly scan your computer.

The default scan takes a few minutes to complete and you can track the real-time progress and view on the spot any suspicious or dangerous items found in your system. Viruses or other types of computer infections can be either deleted, quarantined, ignored (not recommended) or reported as safe. A small description of each threat is displayed below the files in the list, as well as the level of risk it presents.



Evaluation and conclusion



During our test, Hitman Pro managed to find a lot of tracking cookies and a couple of suspicious executable files in the Temporary Internet Files folder, which were swiftly removed.

All in all, this application looks and works very well. Even if it may not be suited as a first line of defense, Hitman Pro can surely prove a great addition that can work alongside a fully-fledged antivirus solution.


HitmanPro Release History

Build 238 (2015-02-17)

IMPROVED: Malware removal on Windows 8.
UPDATED: Embedded white lists.

Runs on: Windows 2K / XP / XP 64 bit / Vista / Vista 64 bit / 7 / 7 64 bit / 8 / 8 64 bit / 2003 / 2008

Instructions:

1.Install
2.Patch program
3.Done.
Sharing Widget