seeders: 252
leechers: 98
---
DC Universe 52 Week 144 (5-28-2014) (darkhomr) [KAT] (Size: 616.13 MB)
| | | | |
| --- | --- | --- | --- |
| | | Secret Origins 002 (2014) (webrip) (Ol' Joe-DCP).cbr | 62.56 MB |
| | | Nightwing 030 (2014) (Digital) (Nahga-Empire).cbr | 56.6 MB |
| | | All-Star Western 031 (2014) (Digital) (Nahga-Empire).cbr | 48.35 MB |
| | | Aquaman 031 (2014) (Digital) (BlackManta-Empire).cbr | 48.03 MB |
| | | Larfleeze 011 (2014) (Digital) (Nahga-Empire).cbr | 46.09 MB |
| | | Justice League Dark 031 (2014) (Digital) (Cypher-Empire).cbr | 46.06 MB |
| | | Suicide_Squad_030_(2014)_(digital-Empire).cbr | 45.23 MB |
| | | Catwoman 031 (2014) (Digital) (Nahga-Empire).cbr | 42.12 MB |
| | | Batman Eternal 008 (2014) (Digital) (Nahga-Empire).cbr | 39.64 MB |
| | | The_Flash_031_(2014)_(digital-Empire).cbr | 39.11 MB |
| | | Red Lanterns 031 (2014) (Webrip) (The Last Kryptonian-DCP).cbr | 38.77 MB |
| | | The New 52 - Futures End 004 (2014) (Webrip-DCP).cbr | 35.73 MB |
| | | Batman v2 031 (2014) (Webrip) (Two covers) (The Last Kryptonian-DCP).cbr | 35.41 MB |
| | | Superman 031 (2014)(HD)(Digital-Thornn).cbr | 32.44 MB |
Description
Welcome to the 2014 version of DC Universe 52. Each week I will bring you the currrent weeks' comics fresh from the depths of your local comic shop. This week is week 144 (May 28, 2014) and includes 14 issues. Join me on this journey, won't you?Before uploading these, I am opening them with ComicRack, and made sure they all opened there. If there are problems please let me know. As usual, these are not my scans. Thanks to the original scanners and uppers. If you like what you got here, please purchase them in some form. If this torrent has no seeds please msg me privately. I will be glad to reup anything that has no seeds. It is my policy to not publish my weekly packs unless they are complete, but no later than Friday morning. If you have questions or requests, please message me privately. All descriptions are from DC and taken from Comiclist.
My release packs are as follows:
DC Universe 52 (Wednesdays based on scanners release times, but not later than Friday morning)
Marvel NOW! (Marvel Comics in the NOW! universe will be released Wednesdays, based on scanners release times)
Total Marvel (All Marvel Universe comics, released on Friday, based on scanners release times)
Independent Comics (Non-DC Universe and Major Independent comics, released between Sunday and Monday morning)
Total DC (all DC comics released for the current week. Released by Saturday each week. Does not include digital only releases)
DC Monthly (all DC Universe comics for the month, released the first Friday after the end of the month)
Total Marvel Monthly (all Marvel Universe comics, released the first Tuesday after the end of the month)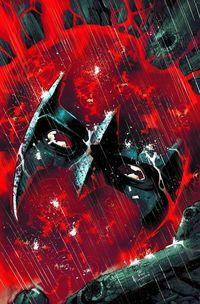 All Star Western #31 (CBR 5/28/2014)
Hex is back in the Old West - and he's joined forces with Tallulah Black to hunt for…the real Jonah Hex? And in the backup story, Madam .44 is lost on a harsh, alien world where she discovers that justice can still be won with a bullet.
Aquaman #31 (CBR 5/28/2014)
The King of Atlantis vs. the Avatar of the Green! It's Aquaman against Swamp Thing, with countless lives hanging in the balance! But why - and what does this mean for rest of The New 52? Find out here!
Batman #31 (CBR 5/28/2014)
The second chapter of 'ZERO YEAR - SAVAGE CITY' reveals an entirely new Gotham City. Unraveling the mysteries set forth by the Riddler, Batman must learn to work with his new ally, Lieutenant Jim Gordon, and do whatever it takes to survive!
Batman Eternal #8 (CBR 5/28/2014)
Is Stephanie Brown an assassination target?
Catwoman #31 (CBR 5/28/2014)
The Race of Outlaws heats up as Catwoman takes on Central City - but the hometown advantage may favor the Rogues!
Flash #31 (CBR 5/28/2014)
Continued from THE FLASH ANNUAL #3! Guest starring Future Flash, Future Mirror Master and…Wally West! The future is invading Central City and the fates of Wally West and his Aunt Iris hang in the balance!
Justice League Dark #31 (CBR 5/28/2014)
Zatanna and the team learn more about the origin of Nightmare Nurse - with deadly results for one member in particular!
Larfleeze #11 (CBR 5/28/2014)
The Cosmic Gods and Council of Ten put aside millennia of war to team up against a new adversary: Larfleeze! Luckily for Agent Orange, he's not the only dog in this fight. Will G'nort and the power of the green light save the day?
New 52 Futures End #4 (CBR 5/28/2014)
Where is Red Robin? Who wants to steal from the world's most famous man? And whatever happened to Stormwatch?
Nightwing #30 (CBR 5/28/2014) FINAL ISSUE
FINAL ISSUE The Bat Family is forced to face the brutal aftermath of FOREVER EVIL, but after everything they've been through, can they stand together?
Red Lanterns #31 (CBR 5/28/2014)
Guy Gardner thought the power of Supergirl would make his team of Red Lanterns unstoppable...but he wasn't counting on the arrival of the deadliest Red yet: The Judge! When she makes her ruling, the fate of the Red Lanterns, Earth and an entire space sector will hang in the balance!
Secret Origins #2 (CBR 5/28/2014)
Batman headlines the second big issue of SECRET ORIGINS, which also features The New 52 origins of Aquaman and Starfire!
Suicide Squad #30 (CBR 5/28/2014) FINAL ISSUE
FINAL ISSUE In the ashes of FOREVER EVIL, A.R.G.U.S. and Task Force X leader Amanda Waller must face the consequences of her failure to protect the United States from the Crime Syndicate.
Superman #31 (CBR 5/28/2014)
'SUPERMAN: DOOMED' continues as Superman continues to change. Plus, Lois's psi powers spike again as we see the looming shadow of Brainiac!
Related Torrents
Sharing Widget
All Comments