seeders: 254
leechers: 98
---
DC Universe 52 Week 146 (6-11-2014) (darkhomr) [KAT] (Size: 456.73 MB)
| | | | |
| --- | --- | --- | --- |
| | | Constantine 015 (2014) (Digital) (Darkness-Empire).cbr | 45.27 MB |
| | | Birds of Prey 032 (2014) (Webrip-DCP).cbr | 43.42 MB |
| | | Superman-Wonder Woman 009 (2014) (2 covers) (digital-Empire).cbr | 42.83 MB |
| | | Detective Comics 032 (2014) (2 covers) (digital-Empire).cbr | 41.29 MB |
| | | Batgirl 032 (2014) (Digital) (Nahga-Empire).cbr | 40.98 MB |
| | | Worlds Finest 024 (2014) (Digital) (Nahga-Empire).cbr | 39.34 MB |
| | | Infinity Man and the Forever People 001 (2014) (Digital) (ThatGuy-Empire).cbz | 39.2 MB |
| | | Green Lantern Corps v3 032 (2014) (Webrip) (The Last Kryptonian-DCP).cbr | 38.04 MB |
| | | Justice League United 002 (2014) (2 covers) (digital-Empire).cbr | 36.42 MB |
| | | Superboy v5 032 (2014) (Webrip) (The Last Kryptonian-DCP).cbr | 32.26 MB |
| | | The New 52 - Futures End 006 (2014) (Webrip-DCP).cbr | 31.11 MB |
| | | Batman Eternal 010 (2014) (digital) (Minutemen-PhD).cbr | 26.58 MB |
Description
Welcome to the 2014 version of DC Universe 52. Each week I will bring you the currrent weeks' comics fresh from the depths of your local comic shop. This week is week 146 (June 11, 2014) and includes 11 issues. Join me on this journey, won't you?
Before uploading these, I am opening them with ComicRack, and made sure they all opened there. If there are problems please let me know. As usual, these are not my scans. Thanks to the original scanners and uppers. If you like what you got here, please purchase them in some form. If this torrent has no seeds please msg me privately. I will be glad to reup anything that has no seeds. It is my policy to not publish my weekly packs unless they are complete, but no later than Friday morning. If you have questions or requests, please message me privately. All descriptions are from DC and taken from Comiclist.
My release packs are as follows:
DC Universe 52 (Wednesdays based on scanners release times, but not later than Friday morning)
Marvel NOW! (Marvel Comics in the NOW! universe will be released Wednesdays, based on scanners release times)
Total Marvel (All Marvel Universe comics, released on Friday, based on scanners release times)
Independent Comics (Non-DC Universe and Major Independent comics, released between Sunday and Monday morning)
Total DC (all DC comics released for the current week. Released by Saturday each week. Does not include digital only releases)
DC Monthly (all DC Universe comics for the month, released the first Friday after the end of the month)
Total Marvel Monthly (all Marvel Universe comics, released the first Tuesday after the end of the month)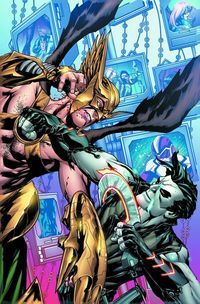 Batgirl #32 (CBR 6/11/2014)
Clandestine meetings, tapped phones, video surveillance - Barbara Gordon is being watched! Who has it in for her, and how can Batgirl investigate without compromising her secret identity?
Batman Eternal #10 (CBR 6/11/2014)
Batman and Catwoman - together again! Professor Pyg is back! And we get some answers about Falcone's past, and his motivations!
Birds Of Prey #32 (CBR 6/11/2014)
It's time to settle some scores! Amanda Waller may have kept Kurt Lance alive, but she also kept him hidden from Black Canary. Now it's on: Birds of Prey vs. the Suicide Squad!
Constantine #15 (CBR 6/11/2014)
John Constantine witnesses the horrifying reach of magic when he meets the world's wealthiest mage - a woman who's been draining all the good luck out of her home city of Hong Kong and benefiting from the suffering of millions!
Detective Comics #32 (CBR 6/11/2014)
The next great Batman murder-mystery continues to unfold in 'Icarus' part three, brought to you by the acclaimed creative team of THE FLASH! Batman is caught in the clutches of the crime boss known as 'The Squid' as he digs deeper into a whodunit for the ages!
Green Lantern Corps #32 (CBR 6/11/2014)
'UPRISING!' part 4! The casualties of the uprising against the Green Lantern Corps reach monumental proportions as the Durlans reveal their sinister endgame! John Stewart leads his ragtag team of Lanterns against an army of shape-shifters that can assume any form. Meanwhile, one Lantern must decide if he will make the ultimate sacrifice to give the Corps any hope in this war.
Infinity Man And The Forever People #1 (CBR 6/11/2014)
Four of the best students from New Genesis arrive on Earth to study and aid in the advancement of humanity - but they soon discover a darker purpose to their mission: a threat so great that it may bring the multiverse itself to its knees! The only thing that stands between them and total destruction is the mysterious entity known as the Infinity Man! Don't miss the start of this new series by Dan DiDio and Keith Giffen, the team that brought you the over-the-top adventures of O.M.A.C.!
Justice League United #2 (CBR 6/11/2014)
It's all out battle issue as Hawkman has a showdown with Lobo as the League is teleported to Rann to face the shape-changing alien called Byth! This looks like a job for Supergirl!
New 52 Futures End #6 (CBR 6/11/2014)
Ray Palmer, Frankenstein and Amethyst take a dangerous journey into the Phantom Zone! And Batman Beyond's mission could be over before it begins when someone discovers his arrival five years from now!
Superboy #32 (CBR 6/11/2014)
The return of the son of Superman to the present day means an all-new Superboy for The New 52! Jon Lane Kent takes off for a N.O.W.H.E.R.E. lab and finds Ravagers - and the Superboy clone body captured by Harvest! What comes next changes Jon's life forever!
Superman Wonder Woman #9 (CBR 6/11/2014)
'SUPERMAN: DOOMED' continues with 'ENEMY OF THE STATE'! As things get more dire on Earth for him, the Man of Steel may have to go into exile in space, but the self-proclaimed protectors of Sector 2814, the Red Lanterns, don't want him there either! Don't miss this deadly face-off between Kal and Kara!
Worlds Finest #24 (CBR 6/11/2014)
Get ready for action as Power Girl and Huntress begin their journey back to Earth 2! Plus, Desaad returns!
Related Torrents
Sharing Widget
All Comments