seeders: 210
leechers: 110
---
DC Universe 52 Week 152 (7-23-2014) (darkhomr) [KAT] (Size: 594.24 MB)
| | | | |
| --- | --- | --- | --- |
| | | Secret Origins 004 (2014) (webrip) (Ol' Joe-DCP).cbr | 65.66 MB |
| | | Batman 033 (2014) (Digital) (Zone-Empire).cbr | 48.16 MB |
| | | Justice League Dark 033 (2014) (Digital) (Cypher-Empire).cbr | 48.1 MB |
| | | Aquaman 033 (2014) (Digital) (BlackManta-Empire).cbr | 43.34 MB |
| | | The Flash 33 (2014) (Digital) (Shining Knight-SCC-Novus-HD).cbr | 41.37 MB |
| | | Superman 33 (2014) (Two Covers) (Digital) (Shining Knight-SCC-Novus-HD).cbr | 40.07 MB |
| | | Catwoman 033 (2014) (Digital) (Nahga-Empire).cbr | 39.59 MB |
| | | The New 52 - Futures End 012 (2014) (Webrip-DCP).cbr | 39.53 MB |
| | | All-Star Western 033 (2014) (Digital) (Nahga-Empire).cbr | 38.3 MB |
| | | Red Lanterns 033 (2014) (Webrip) (The Last Kryptonian-DCP).cbr | 35.93 MB |
| | | Trinity of Sin - Pandora 013 (2014) (digital-Empire).cbr | 34.92 MB |
| | | Wonder Woman 33 (2014) (Digital) (Shining Knight-SCC-Novus-HD).cbr | 33.93 MB |
| | | Batman and Robin 033 (2014) (Digital) (Zone-Empire).cbr | 29.4 MB |
| | | Batman Eternal 016 (2014) (digital) (Minutemen-PhD).cbr | 28.21 MB |
| | | Star Spangled War Stories 001 (2014) (digital-Empire).cbr | 27.73 MB |
Description
Welcome to the 2014 version of DC Universe 52. Each week I will bring you the currrent weeks' comics fresh from the depths of your local comic shop. This week is week 151 (July 23, 2014) and includes 15 issues. Join me on this journey, won't you?
NOTE: This is actually week 152 (or the current week). I must have lost my mind.


Before uploading these, I am opening them with ComicRack, and made sure they all opened there. If there are problems please let me know. As usual, these are not my scans. Thanks to the original scanners and uppers. If you like what you got here, please purchase them in some form. If this torrent has no seeds please msg me privately. I will be glad to reup anything that has no seeds. It is my policy to not publish my weekly packs unless they are complete, but no later than Friday morning. If you have questions or requests, please message me privately. All descriptions are from DC and taken from Comiclist.
My release packs are as follows:
DC Universe 52 (Wednesdays based on scanners release times, but not later than Friday morning)
Marvel NOW! (Marvel Comics in the NOW! universe will be released Wednesdays, based on scanners release times)
Total Marvel (All Marvel Universe comics, released on Friday, based on scanners release times)
Independent Comics (Non-DC Universe and Major Independent comics, released between Sunday and Monday morning)
Total DC (all DC comics released for the current week. Released by Saturday each week. Does not include digital only releases)
DC Monthly (all DC Universe comics for the month, released the first Friday after the end of the month)
Total Marvel Monthly (all Marvel Universe comics, released the first Tuesday after the end of the month)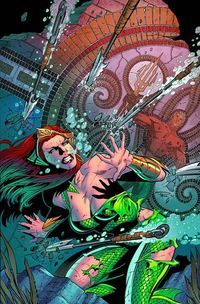 All Star Western #33 (7/23/2014 CBR)
Someone's been living Jonah's life while he's been gone - and ruining his good name! Now, he aims to find out who this impostor is. But is Hex the hunter…or the prey?
Aquaman #33 (7/23/2014 CBR)
With threat after threat - including the arrival of the deadly Chimera - demanding Arthur's attention, it's fallen to Mera to hold Atlantis together, even if most of the city wants her dead! The conspirators hiding in the shadows of the city's darkest reaches can't hide forever - but can Mera get to them before Atlantis comes apart?
Batman #33 (7/23/2014 CBR)
It's been one hell of a year in Gotham City, and it all comes down to this: Batman vs. The Riddler! Gotham City and the Dark Knight will never be the same! Don't miss this special, extra-sized finale of 'Zero Year!'
Batman And Robin #33 (7/23/2014 CBR)
'ROBIN RISES'! Picking up right where this month's ROBIN RISES #1 left off, it's Batman vs. the Justice League as the Dark Knight decides to follow the Chaos Shard back to its source: Apokolips!
Batman Eternal #16 (7/23/2014 CBR)
Red Robin is out to solve the mystery of the nanovirus spreading among Gotham City's poorest, but Harper Row isn't going to let him do it alone! Can Batwing escape the clutches of The Joker's Daughter?
Catwoman #33 (7/23/2014 CBR)
'Race of Thieves' speeds to the finish line in this final chapter! Selina is tested as she tries to compete in the race while she works for the GCPD!
Flash #33 (7/23/2014 CBR)
Future Flash fights Future Trickster! In the present, Barry solves a murder case, but he's about to be murdered by the killer himself! Will he be fast enough to save both timelines?
Justice League Dark #33 (7/23/2014 CBR)
A team member is possessed, and the House of Mystery is about to enter the unknown Void of Non-Being! Who will be left on the team by this issue's end?
New 52 Futures End #12 (7/23/2014 CBR)
With Grifter still missing, his partner turns to the only person on Earth who may need more help than Cole! And 35 years from now, Brother Eye has conquered all of humanity - but what does it have planned?
Red Lanterns #33 (7/23/2014 CBR)
'Atrocities' kicks into gear - the epic that the last year of RED LANTERNS has been building to all along! It's open war between Atrocitus and Guy Gardner - and there's a powerful squadron of Red Lanterns on each side! But Guy Gardner could never have imagined what Atrocitus has been planning all this time… And he couldn't imagine that one of his closest friends would refuse to stand by his side!
Secret Origins #4 (7/23/2014 CBR)
The latest explosive origins from DC COMICS - THE NEW 52 include Harley Quinn by Amanda Conner, Jimmy Palmiotti and Stephane Roux; Green Arrow by Jeff Lemire, Denys Cowan and Bill Sienkiewicz, and Damian, Son of Batman, by Peter J. Tomasi and Ian Bertram!
Star Spangled War Stories GI Zombie #1 (7/23/2014 CBR)
Meet the soldier they call 'G.I. ZOMBIE,' a man who is neither dead nor alive, who fights for his country again…and again…and again!
Superman #33 (7/23/2014 CBR)
It's up, up and away as the titanic team of Geoff Johns, John Romita Jr. and Klaus Janson continue their epic run on the Man of Steel! In their second issue, we learn more about the mysterious Ulysses and what his emergence will mean to Clark Kent and the world. Meanwhile, a mysterious figure is targeting Metropolis with strange mechanical creations...but why? And what dark secret from Clark's past does it connect to?
Trinity Of Sin Pandora #13 (7/23/2014 CBR)
As Pandora mourns the death of her lover, she recounts her relationship with his soul, reincarnated through the millennia, and how she's mourned over and over again.
Wonder Woman #33 (7/23/2014 CBR)
It's the beginning of the end as writer Brian Azzarello and artist Cliff Chiang kick off the astonishing finale of their epic run! Olympus must fall, and its rightful ruler must be restored - but in Diana's depraved family of demigods and gods, who can be trusted to rule with decency and justice?
Related Torrents
Sharing Widget
All Comments