seeders: 234
leechers: 102
---
DC Universe 52 Week 153 (7-30-2014) (darkhomr) [KAT] (Size: 355.01 MB)
| | | | |
| --- | --- | --- | --- |
| | | Aquaman Annual 02 (2014) (Digital) (BlackManta-Empire).cbr | 70.85 MB |
| | | Red Lanterns Annual 001 (2014) (Webrip) (The Last Kryptonian-DCP).cbr | 63.22 MB |
| | | Detective Comics Annual 003 (2014) (digital) (CompetentRipper-Empire).cbr | 52.89 MB |
| | | Harley Quinn 008 (2014) (Digital) (Nahga-Empire).cbr | 46.69 MB |
| | | Sinestro 004 (2014) (Webrip) (The Last Kryptonian-DCP).cbr | 33.19 MB |
| | | Justice League 32 (2014) (Two Covers) (Digital) (Shining Knight-SCC-Novus-HD).cbr | 32.81 MB |
| | | The New 52 - Futures End 013 (2014) (digital) (CompetentRipper-Empire).cbr | 29.16 MB |
| | | Batman Eternal 017 (2014) (digital) (Minutemen-PhD).cbr | 26.2 MB |
Description
Welcome to the 2014 version of DC Universe 52. Each week I will bring you the currrent weeks' comics fresh from the depths of your local comic shop. This week is week 151 (July 23, 2014) and includes 15 issues. Join me on this journey, won't you?
Before uploading these, I am opening them with ComicRack, and made sure they all opened there. If there are problems please let me know. As usual, these are not my scans. Thanks to the original scanners and uppers. If you like what you got here, please purchase them in some form. If this torrent has no seeds please msg me privately. I will be glad to reup anything that has no seeds. It is my policy to not publish my weekly packs unless they are complete, but no later than Friday morning. If you have questions or requests, please message me privately. All descriptions are from DC and taken from Comiclist.
My release packs are as follows:
DC Universe 52 (Wednesdays based on scanners release times, but not later than Friday morning)
Marvel NOW! (Marvel Comics in the NOW! universe will be released Wednesdays, based on scanners release times)
Total Marvel (All Marvel Universe comics, released on Friday, based on scanners release times)
Independent Comics (Non-DC Universe and Major Independent comics, released between Sunday and Monday morning)
Total DC (all DC comics released for the current week. Released by Saturday each week. Does not include digital only releases)
DC Monthly (all DC Universe comics for the month, released the first Friday after the end of the month)
Total Marvel Monthly (all Marvel Universe comics, released the first Tuesday after the end of the month)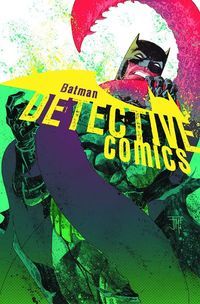 Aquaman Annual #2 (7/30/2014 CBR)
During his battle with Hercules, Aquaman unleashed an ancient evil from the days of the Greeks -- so he's called in Wonder Woman to help him clean up the mess! You can be sure the Queen of the Amazons and the King of Atlantis have plenty to talk about…if they can hear each other over the bloodcurdling screams of the Giant-Born!
Batman Eternal #17 (7/30/2014 CBR)
Years ago, Gotham City faced a power Batman could barely overcome...Now, deep beneath Arkham Asylum, he will rise again, and the city will know his wrath...
Detective Comics Annual #3 (7/30/2014 CBR)
A tie-in to 'Icarus'! Follow the movements of a deadly stash of Icarus through Gotham City, as it impacts the lives of those it comes into contact with: Elena and Annette Aguila, Harvey Bullock, and even Batman!
Harley Quinn #8 (7/30/2014 CBR)
It all comes down to this: Harley finally tracks down some of the mysterious hired killers who have vexed her since the start of the series! But what's she going to do with them? Enter the Scatapult!
Justice League #32 (7/30/2014 CBR)
Lex Luthor continues his acclimation to his life as a one of the world's greatest heroes as they search for the mysterious power threatening to unravel our world. But are his sights really set on the Dark Knight? And are the Dark Knight's set on him? Plus, someone else is targeting Luthor and his new allies - a man who believes himself Luthor's superior in every way...and maybe he is! Here comes The Chief and his treacherous Doom Patrol to The New 52!
New 52 Futures End #13 (7/30/2014 CBR)
Five years from now, the world turns against Batman Beyond! Plus, Barda and Emiko must face off against the NEW Secret Six!
Red Lanterns Annual #1 (7/30/2014 CBR)
'Atrocities' cranks the action up to eleven! Guy Gardner fought hard to get Space Sector 2814 - including Earth - under Red Lantern protection. So of course Atrocitus has chosen Guy's homeworld as the arena for their murderous final battle! Red Lanterns will die! Traitors will emerge (and maybe die)! Rivers will run red! It's the first-ever RED LANTERNS ANNUAL, and it's absolutely unmissable!
Sinestro #4 (7/30/2014 CBR)
Sinestro and Hal Jordan cross paths for the first time since Sinestro brutally murdered the Guardians! Can Hal stop Sinestro from assembling a universe-threatening army? And even more crucial: SHOULD he?
Related Torrents
Sharing Widget
All Comments